Traditional Japanese "Tokigushi" Comb
Handcrafted and Beautifully Carved From Tsuge (Boxwood)

Bring out the best in your hair. The smooth, seamless teeth glide effortlessly through hair without snagging and causing breakage, and without scraping scalp. You will never want to use synthetic combs again.
Perfect length for engaging all teeth without overloading. Curved grip for comfortable hold and balance at various angles without bending wrist.
If you use Camellia oil, this comb will save you money since you get much more even and better coverage by using less oil.
Anti-Static
Reduces frizz, since wood does not generate static electricity (which synthetic combs do). Works with your hair, rather than against it.
Polished, Seamless Teeth Inhibit Hair Damage & Split-ends
Polished teeth caress hair instead of fighting it.Teeth are seamless and smooth all around, unlike plastic combs with rough lines in between teeth (left from the molding process) which snag and damage hair.
Micro Pores Help Bring Out Hair's Natural Beauty and Shine
Maintains optimal and balanced levels of moisture and oil throughout your hair, promoting natural shine and gloss. In contrast to plastic, wood teeth have microscopic pores which pick up and re-distribute scalp's natural sebum and any oil you apply in a thin, even layer throughout hair.
Overall Size - 10.5 cm long
Teeth - 2.3 mm pitch
Material - Aged Tsuge Boxwood. Pre-soaked with Camellia oil and ready to use. Distinctive carving adds to natural beauty of this comb.
Handcrafted in Japan
Comes with case and 5ml Camellia oil
---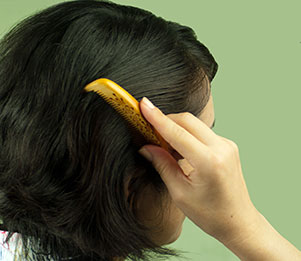 About Tsuge and Tokigushi Combs
Tsuge, also known as boxwood, is one of the densest, hardest types of wood. This is one reason why Tsuge combs can be crafted to such high polish and finish.
Most other hard woods are brittle, which makes them vulnerable to shattering. Tsuge is notable in the sense that its extreme hardness is combined with its remarkable flexibility.
The Process
Boxwood is a small tree, which grows extremely slowly. This is one reason why it is so dense. The wood is harvested from trees which are at least 35 years old, cleaned and fumigated, and undergo a long drying process in special warehouses for at least 10 years. After that, pieces with best wood grain are carefully selected for handcrafting — undergoing multiple steps involving rough-shaping, carving, polishing and soaking with Camellia oil.
Tokigushi is the traditional Japanese comb for all-around everyday use. Gushi (or kushi) in Japanese means comb. Toki (a variation of the verb "toku") means untangling.
How to Care for Your Comb
With proper care, Tsuge combs last for years and years, and get softer and more polished with time. The wood becomes naturally darker and richer in color. Tsuge combs render their best performance when regularly cleaned with Camellia oil.
Use a soft toothbrush and a few drops of Camellia oil to clean your comb. Wipe with a soft cloth.
Keep your comb protected in your purse or your vanity drawer, as you would your high quality accessories.
Every comb comes with a 5 ml bottle of our best Tsubaki (Camellia) oil.