About Us
We are a producer and supplier of traditional Japanese beauty and wellness products, made by time-tested techniques with natural, nontoxic ingredients.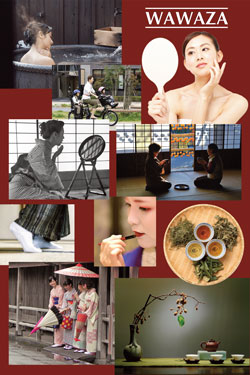 We are PETA approved and do not test our products or ingredients on animals. Nor do we pay others to do so on our behalf.
Our Name Says it All
WAWAZA in Japanese is comprised of two Kanji characters: WA (和) and WAZA (技).
If there is one word which embodies the essence of Japan, it is WA. It is the oldest recorded name for Japan itself, and also stands for harmony, peace and balance. WAZA is Japanese for know-how.
We created WAWAZA to offer "living" Japanese traditions of beauty and wellness in everyday life, not as individual products but as an interwoven fabric.
Our products are representations of our values: harmony, beauty and functionality, the time-tested Japanese way.
Our Mission
Provide you with authentic Japanese beauty, wellness and lifestyle products

Support traditional craft-makers as viable alternatives to wasteful mass-producers

Treat our customers, suppliers and employees with care and with respect

Minimize our carbon footprint in every aspect of our business
How-to Guides, Views and News
We publish the Tips & Tidbits practical how-to guides, the Miyazaki Whispers Blogs and the WAWAZA subscription eLetter for special offers and product news.
Connect with Us
We love to hear from you. Our staff are fluent in English and eager to respond to all your inquiries.
---